Mountain View Free Fair
Starting date:
Ending date:
Event# 580-347-3213
Event Details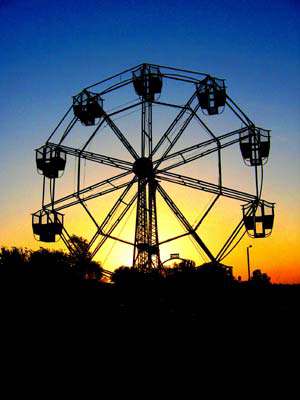 In its 94th year, this community celebration includes live entertainment, home-town food booths, rides and games each evening.

The Fair operates Thursday, Friday and Saturday evenings with live entertainment Friday and Saturday. Local volunteers run amusement rides and games starting at 8 p.m. each evening. Arts, crafts and gardening exhibits are also on display beginning at 8 p.m. Home-town food booths continue to be a major attraction for visitors and will be in operation each day and evening.

On Saturday there will be tractor pulling contests, antique tractor displays and both horse and livestock shows. Good fun, exciting rides, good entertainment, all in a friendly small-town family atmosphere.
Mountain View Free Fair
Address :
Tolbert Park
Mountain View
OK
Phone :
580-347-3213
(Always call and confirm events.)
County Fairs
Attractions and Upcoming Events
Every August for over 90 years, Mountain View, Oklahoma holds its annual free fair. Dominating the skyline is a 1920's Parker ferris wheel, only 1 of 4
Mountain View, OK
One Of A Kinds
---
Things to do near Mountain View, OK