NCK Saddle Club Rodeo
Starting date:
Ending date:
Event# 785-614-1563
Event Details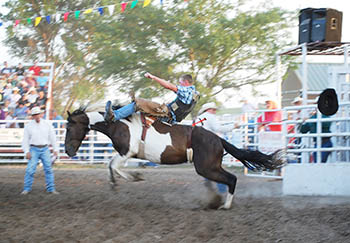 The NCK Saddle Club rodeo is coming up during the Cloud County Fair. We will have a show both nights by the NCK Saddle Club Drill Team, great food and service with a smile at our concession stand, a calf scramble for the kids, and lots of action with lots of great local cowboys and cowgirls.

Highlights include:
Grand Entry
National Anthem
Jodi Hay Memorial Bareback Bronc Riding
Saddle Bronc Riding
Steer Wrestling
Calf Roping
Kids Calf Scramble
Wild Cow Milking
Team Roping
Drill Team performance
Ladies Barrel Racing
Jr. Barrel Racing
Jodi Hay Memorial Bull Riding
Patriotic Closing Ceremony

There will be free parking and a concession stand near the arena. Performance begins at 7:30pm, but come early to get a good spot and refreshments!

*No smoking"*

https://www.facebook.com/NCKRodeo/
NCK Saddle Club Rodeo
Address :
NCK Saddle Club Arena, Cloud County Fairgrounds
Concordia
KS
Phone :
785-614-1563
(Always call and confirm events.)
Web Address :
http://www.ncksaddleclub.com/nck-rodeo/
Admission Fee :
Adult and children tickets are available at the gate.
Rodeos
Attractions and Upcoming Events
Things to do near Concordia, KS