category : Recreation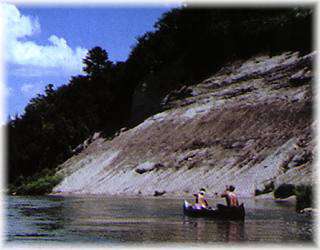 Recognized among the 10 top canoeing rivers in the nation by Backpacker magazine, the Niobrara River flows leisurely through steep sandstone canyons. Nebraskans also rank the river, designated a National Scenic River by Congress in 1991, in the top 10 favorite tourists stops in the state.
Six ecological systems meet and mix along a 30-mile stretch of river, where plants and animals, including some endangered species, live well beyond their normal range. Nourished by many spring-fed tributaries, this new addition to the National Park system provides the state's only stretch of National Scenic River.
Much of the river is fairly calm, and not particularly deep -- perfect for beginners. A faster current farther down stream makes the ride more exciting, however, and warning of caution is posted at the rapids near Rocky Ford. Whether you choose to canoe or tube, the river will do most of the work for you. River trips can range in length from half an hour to several days, and several outfitters have local offices to assist you in planning your adventure.
Come visit us in Ainsworth, Nebraska