OSTA Steam and Gas Engine Show
Starting date:
Ending date:
Event# 918-762-6788
Event Details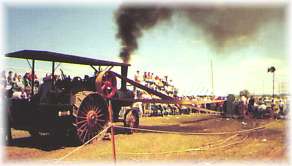 All roads lead to Pawnee the first full weekend in May for three days (Friday, Saturday, and Sunday) for one of the largest displays of the giant machines at work in the country ... The largest in the southwest. A festival of fun, food, arts and crafts, antiques, flea markets, parades, and entertainment. A day in times gone by.

The Oklahoma Steam Threshing and Gas engine Association was originally called the Oklahoma Steam Threshers association when it was organized in Waukomis, Oklahoma in 1966. It is a state chartered, non-profit organization dedicated to the restoration and preservation of the history and agriculture of the plains states. Each member owns and maintains his own collection of equipment with restoration done throughout the year in preparation for demonstrating the farming methods of the early 1900s.

OSTA Steam and Gas Engine Show
Address :
Steam Park (North of Pawnee)
Pawnee
OK
Phone :
918-762-6788
(Always call and confirm events.)
Web Address :
http://www.OklahomaThreshers.org
Admission Fee :
$7.00. 12 and under are free.
Festivals
Attractions and Upcoming Events
Things to do near Pawnee, OK