Oakley Corn Festival
Starting date:
Ending date:
Event# 785-671-1000
Event Details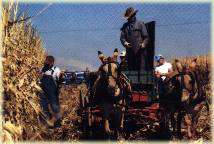 A large variety of arts and crafts items. Held in conjunction with the Annual Kansas State Cornhusking Contest. 4H Building.

Vendors will be here to demonstrate how things were made before mechanization from 9:00 am – 4:00 pm. Some will also have products to sell.

Rope braiding
Tatting/Crocheting/Knitting
Wheat weaving
Story Telling
Rug Making
Spinning Wool
Jerky Making
Canning/Preserving
Bobbin Lace
And Informational Booths

For the kids

Pumpkin Carving/Decorating Contest from 12:00 – 2:30 pm
Corn Pile Money Hunt starting at 2:30 pm
There is a Corn Ear Throwing Contest for adults and kids at 1:30 pm

You can bring pumpkins out to sell or enter for prizes for the largest diameter and most unusual shape.

The Buffalo Bill Cultural Center and Cabin Gift Shop will be open from 8:00 am - 5:00 pm.

Antique Tractors and Engines will be on display throughout the day.

These events all take place at the Buffalo Bill Cultural Center and Kansas State Corn Husking site where there will be concessions available and general admission is free.

Oakley Corn Festival
Phone :
785-671-1000
(Always call and confirm events.)
Web Address :
http://www.buffalobilloakley.org
Festivals
Attractions and Upcoming Events
Things to do near Oakley, KS