category : Festivals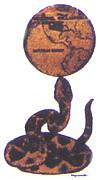 The Okeene Rattlesnake Round-Up is listed in the Worldwide Brochures Travel Dictionary as home of "THE Original Rattlesnake Hunt". People from all over the world have come to visit us. We are looking forward to seeing YOU the first week in May!
There's something for everyone!
* Parade

* ATV Rodeo

* Train Rides ( Sat. Only )

* Den of Death

* Vendors

* Butcher Shop

* Carnival Rides ( Thursday Special )

* Live Entertainment

* Local Taxi Service

* Knights of Columbus Breakfast


* Old Smokey Show

* Food (First 500 Free Hot Dogs)

* Snake Memorabilia

* Townwide Garage Sales

* Helicopter Rides

* Poker Run

* 5K, 10K, 1M Run

* Lot of stuff to do this year!



* The Den of Death is a show put on by trained Rattlesnake handlers. They do remarkable things with venomous snakes. These men will show you nerves of steel. This show is not only very entertaining but educational too. Come see the show! If You Dare!

Phone: 580-822-3101
Fax: 580-822-3101
Our Email: snakcity@pldi.net
Our Website:www.okeenerattlesnakehunt.com

Okeene Diamondback Club
217 N. Main
Okeene, OK 73763
Come visit us in Okeene, Oklahoma