Okemah, Oklahoma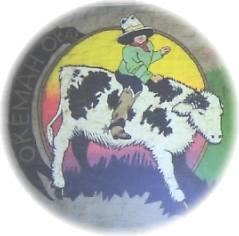 Okemah was named for Kickapoo Chief, Okemah, who lived one and one half miles east and one mile north of Harrah upon his original allotment where he died in 1936. Chief Okemah lived on the townsite of Okemah from March 1902 until a week after the opening which occurred on April 21, 1902. The agreeable and fine temperament of this old chief was really the cause of naming the town for him - noted for honesty, integrity, and uprightness - the name meaning "high man" or "person of high stature."
As the hometown of folk singer, Woody Guthrie, "Okemah was one of the singiest, square dancingest, drinkingest, yellingest, preachingest, walkingest, talkingest, laughingest, cryingest, shootingest, fist fightingest, bleedingest, gamblingest, gun, club and razor carryingest of our ranch towns and farm towns, because it blossomed out into one of our first Oil Boom Towns." The Annual Woody Guthrie Free Folk Arts Festival brings thousands of music lovers and folk entertainers to Okemah for five days of good ole music lovin' fun!
Experience Okemah with its clean, safe, friendly atmosphere. A variety of recreational and leisure activities, great schools, a strong retail environment and community spirit make Okemah a great place to visit, to raise a family, or retire.