OktoberFest!
Starting date:

Event# 432-550-9696
Event Details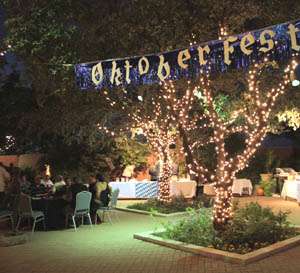 The Ellen Noël Art Museum announces a new tradition with a fun event for the whole community: A German style OktoberFest! It will be held on Friday evening from 6:30pm until 11pm in the George and Milly Rhodus Sculpture and Sensory Garden at the Museum, as well as in tents on the Museum grounds.

Handmade German, Polish, Italian, and Bulgarian sausage, German potato salad, sauerkraut, and desserts will be provided by Ogi's Restaurant and Bar. German draft beer, apple cider, German music and more will round out the evening's offerings. Two-time Grammy award winning group Bravo Combo will perform German-inspired tunes throughout the night! This event will present an opportunity for new audiences to discover the Ellen Noël Art Museum. Proceeds from this event will be used to support the Museum's exhibition program.

Museum exhibitions will be open during the event. Sponsorships can be purchased online or in person at the Ellen Noel Art Museum.

The mission of the Ellen Noël Art Museum is to enhance the lives of citizens in the Permian Basin by providing access to art of enduring quality and opportunities for arts education and cultural enrichment with classes, artist workshops, family activities, lectures and other programs.

The Ellen Noël Art Museum is open Tuesday through Saturday, 10 a.m. to 5 p.m. and Sunday, 2:00 p.m. to 5:00 p.m. More information about the Museum and this event is available on the Museum's Web site or by calling the Museum.
OktoberFest!
Address :
Ellen Noël Art Museum, 4909 E. University Blvd., Odessa, TX 79762
Odessa
TX
Phone :
432-550-9696
(Always call and confirm events.)
Web Address :
http://www.noelartmuseum.org
Admission Fee :
Tickets ($35 in advance and $40 at the door)
Cultural Festivals
Attractions and Upcoming Events
Things to do near Odessa, TX