Old Abilene Town 4th of July Celebration
Starting date:
Ending date:
Event# 785-263-2231
Event Details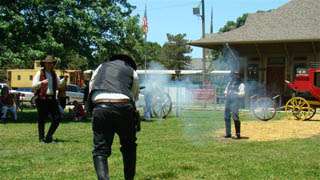 On Friday, Old Abilene Town will celebrate the 4th of July. There will be a full day of activities, food and fun. You won't want to miss out on the frontier fun, head to Abilene, "Where the Trial ends and the Legends Begins".

There will be activities Friday, Saturday and Sunday. The Abilene & Smoky Valley Railroad will be running their restored 1919 Santa Fe 4-6-2 #3415 steam locomotive all three days. On Friday and Saturday the train will run at 10 am and 2 pm, on Sunday the train will run only at 2 pm. For cost information call 1-888-426-6687 (263-1077).

There will also be Gunfights all three days. On Friday and Saturday the times for the gunfights will be 11:30 am, 1:30 pm and 3:30 pm. On Sunday they will be at 1:30 pm and 3:30 pm. Come and watch Wild Bill Hickok tame the streets of Abilene.

On Friday, the mayor of Old Abilene Town, T.C. Henry will begin the celebration with his annual 4th of July Speech at 11:15 am. T.C. Henry, portrayed by Jeff Sheets, will say a few patriotic words about the 4th of July in 1871.

The Old Abilene Town Can Can Dancers will perform in the Alamo Saloon on Saturday at 12 pm and at 1 pm. They will then perform on Sunday at 1 pm and at 2 pm.

Historic Abilene will also provide a picnic lunch served outside the Alamo Saloon on Friday and Saturday. The menu will consist of sloppy joes or hotdogs, baked beans, chips and watermelon with tea or lemonade to drink, all for only $5 a plate.

At 2:30 pm there will be old fashion races, including the hoop and stick race, the sack race and the three legged race. Kids of all ages can participate in the games.

While you are visiting Old Abilene Town you won't want to miss a ride on the stagecoach. On Saturday and Sunday the stagecoach will be running. The cost for the stagecoach ride is $5 per adult 12 and over and children 11 and under is $2.

Throughout the Saturday, there will be a pioneer camp set up. The pioneer women will be demonstrating cooking over a camp fire and other pioneer activities.

Old Abilene Town is owned and operated by Historic Abilene, Inc., a non-profit organization which also operates the Hitchin Post Restaurant and the Gift Shop. If you are interested in becoming a member of Historic Abilene and want to help restore Old Abilene Town you may send a $25 membership to Historic Abilene, P.O. Box 337, Abilene, KS 67410. All other donations will be appreciated.

Historic Abilene is a proud member of the 5 STAR Museum District. Don't forget to visit the Dickinson County Heritage Center, the Eisenhower Presidential Library, Museum and Boyhood Home, the Greyhound Hall of Fame and ride the Abilene & Smoky Valley Railroad. Abilene is where the Trails end and the Legends begins.
Old Abilene Town 4th of July Celebration
Address :
Old Abilene Town, 100 SE Fifth
Abilene
KS
Phone :
785-263-2231
(Always call and confirm events.)
Web Address :
http://www.abilenecityhall.com
Admission Fee :
Vary, most is free
Additional Notes :
Independence Day
Attractions and Upcoming Events
Things to do near Abilene, KS