category : Museums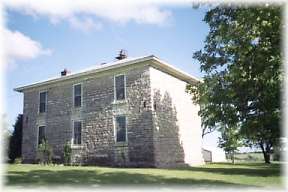 The Albany Historic Museum building was formerly the Albany Rural School District No. 1, Brown and Nemaha. The two story limestone building was built in 1867. School was first held in the new building during the 1867-1868 school year. The Albany School House was entered on the National Register of Historic Places April 13, 1972, as a site of historic significance.

The First Congregational Church added the second story to be used by the church on Wednesday evenings and Sundays.

The Albany Academy used the second floor with attendance of 40 to 70 pupils.

In 1965, the school and grounds were acquired by the Albany Historical Society who began restoring the building. First floor displays consist of original desks, blackboards, teachers' desks and a piano. The Historical Society has continued gathering vintage buildings for Old Albany to make it representative of the original settlement. Two of the original buildings still stand, and a post office, log cabin, frame schoolhouse, blacksmith shop, sawmill, and print shop have been donated to add to the complex.


The Post Office building was a gift from Lawrence Sanford in 1975. Equipment on display was purchased from the retiring postmistress of the Whiting, Kansas Post Office.

The Log Cabin was moved to Albany in July 1976, from a farm owned by Raymond Bucher located two miles north of Bern. The cabin was built by Christian Minger and his wife in 1865. It was built to replace a smaller cabin which the Mingers had built earlier. the Mingers came to America from Switzerland in 1865 and settled on Four Mile Creek.

The cabin was larger than most cabins and possibly the largest in Nemaha County at the time it was built. In addition to the loft, which is preserved, the cabin also had a basement at its original site. The cabin with some frame additions was still being lived in until the late 1940s.

The Berwick School was moved to its present site during the fall of 1966. The Sabetha High School awards and trophies, up to the unification of District 441, are on display here, along with many other interesting items.

Car Building - The car building was built in 1975. At present there are 26 antique, classic, special interest, and sports cars dating from a 1913 Ford "T" to a 1970 compact sports car. Another new building directly north of the car building, houses some very old wooden farm machinery and two airplanes built by Red Bird Mfg. Co. of Bern, Kansas, in the late 1920s.

Ackerman Building - In July, 1971, a new steel building was dedicated in honor of Albert Ackerman, who was president of the Albany Historical Society from 1965 to 1981. There is a fine collection of old tractors and threshing machines and the original water fountain from the Sherwood home, which was erected in 1878.

Blacksmith Shop - The new Blacksmith Shop was built in 1990 and contains blacksmithing tools and equipment from the Blacksmith Shop in Caploma which were donated by Sam Payne. The Blacksmith Shop is in operation during the Threshing Bee and at other times during the year. Blacksmith Workshops are held periodically where participants learn basic blacksmithing techniques.

Sawmill - The Albany Museum features a working sawmill, which was put into operation in 1986. Volunteers operate this sawmill during the Threshing Bee and at other times during the year. The Blacksmith Shop and other buildings were built from lumber sawed on the sawmill.

Print Shop - A garage was transformed into a Print Shop to house printing equipment including a press, Linotype, paper cutter, and many other printing items. During "Old Albany Days" the press is used to demonstrate older printing techniques.

Most House - The wood frame house was built in 1865 in the thriving town of Albany. This is where Mr. & Mrs. Waggoner resided and made their living growing yeast and weaving rugs. Waggoner's grandson, Kenneth Most, donated the house to the Albany Museum in 1969. It still contains many of the original furnishings.



Hours: 2:00 p.m. to 5:00 p.m., Weekends & Holidays
(Memorial Day through Labor Day)
Address: 2 miles north of Sabetha on 6th Street, Highway 75, 1/2 miles West, and 1/2 mile North.
Phone: 785-284-2694


Come visit us in Sabetha, Kansas