Overbrook, Kansas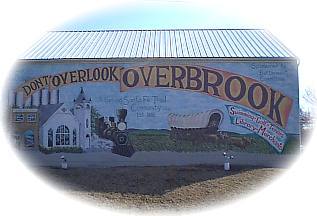 Overbrook was founded when the Kansas-Nebraska-Dakota Railroad came through in 1886 and is located on what had been the Santa Fe Trail, although it was not in existence while the trail was in use for the western migration. The town was named by the railroad construction boss in honor of his hometown of Overbrook, Pennsylvania.
Drive by Rock Creek Springs east of town which was a campground and watering stop on the trail. See the trail ruts at Overbrook Cemetery on the southeast edge of town. Journey west of Overbrook to see the location of Flag Spring, another popular stop on the Santa Fe Trail. A DAR marker can be seen in front of the Post Office downtown.
Overbrook is built on the old Santa Fe Trail (now US56); located SE of Topeka approximately 20 miles, or SW of Lawrence- 25 miles. As you drive down Highway 56 you will be greeted today, as in years past, with the old water tower boasting our slogan "Don't Overlook Overbrook." We are a small farming community, rich in heritage, and wealthy in the spirit of community life.
Our town is privileged to have two banks, a dental office, medical clinic, barber shop, beauty salons, a large grocery store, quilting shop, flower shop, restaurants & cafés, a new lumber yard, an excellent library, a newly enlarged swimming pool, a 24-hour nursing home along with assisted living apartments, and a community retirement center. We have a scenic bed and breakfast just east of town. You can enjoy their orchard while you are there. Our new 8 acre fishing lake sits on the east side of town just off Highway 56. It has been well stocked and is now ready for the beginner and experienced angler. Jones Park is just south of the lake and is active every evening with the cheers of our hometown baseball and softball teams. The beautiful 9-hole golf course west of town is host to many area golfers and visitors.
As you can see, we have numerous small businesses, a great school system, and a number of churches, which together creates a self-sustaining city with a hometown atmosphere for visitors, as well as for those living in Overbrook. We enjoy meeting new friends, so stop by if you're driving down Highway 56, and see for yourself why so many of our young people have returned to their hometown to raise their families and... Don't Overlook Overbrook!
Stop by City Hall,in the former Kansas State Bank building built in 1897, we will be glad to see you!
Our city website is www.overbrookks.com