category : Museums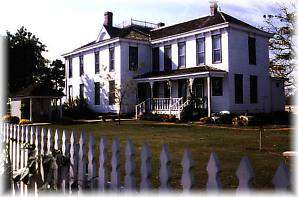 At the Overstreet-Kerr Farm visitors may glimpse life on this working farm as it was in the early 20th century. See the lavishly restored, 1895, antique filled, 14-room pioneer home that is listed on the National Registry of Historic Places. Focus on the Choctaw-pioneer farming and ranching life in the original barn, chicken house, potato house, smokehouse, herb gardens, antique farm equipment, rare breeds of livestock, such as, Pineywoods cattle, Spanish goats, and American Mammoth donkeys. Wander through an orchard of heirloom varieties of fruit and native trees marked on the nature trail.

The Kerr Center acquired the two-story home and the remaining 140 acres of the Overstreet Ranch in 1988 from the Overstreet-Short Mountain Foundation. Restoration of the historic home and outbuildings was completed in 1991. The restored home includes period rooms, original woodwork, and four hand-carved fireplaces. The Kerr Center has preserved many of the Overstreet family photos, records, and furnishings. The Overstreet-Kerr Historical Farm provides educational programs and displays that reflect the events and history at the turn of the century.
It has been said that "Things last longer than people." Things serve as a lasting record of the lives of people, giving the viewer knowledge, understanding, and an appreciation of the lifestyles, successes, and failures of a previous generation. By preserving these things, the Overstreet-Kerr Historical Farm helps to keep the source of such knowledge, understanding, and appreciation alive for future generations.
History
On May 21, 1871, T.G. Overstreet married Margaret Victor in Greene County, Mississippi. Later that year, the young man brought his bride to Indian Territory. Overstreet built a small log cabin, just south of the Arkansas River at the foot of Short Mountain and began to clear cane thickets along the river.
Since Margaret was part Choctaw Indian, the law entitled Overstreet to all the land that he cleared and one-fourth mile surrounding it. Soon the massive Overstreet Ranch encompassed 3,000 acres of rich Arkansas River bottomland. The ranch was well-known for its quality cattle, hogs, mules, horses, cotton, and
potatoes.
In 1890, Tom started work on the home that the family members refer to as the "big house." It has been said that it was built from bottom to top, without a knot or fault in a single piece of lumber. The impressive 15-room home was built in an unusual design with inside chimneys, back-to-back fireplaces, closets and a captain's walk, which were not characteristics seen in the area at the time.
Public Tours of Home and Grounds:

Admission: Tour fee: $3 adults, under 6 free
Hours: Monday - Thursday by appointment only
Friday - Saturday 10 a.m. - 4 p.m.
Address: From I-40 at Sallisaw, OK take Hwy. 59 south ten miles to Overstreet-Kerr Road, then one-quarter mile west.
Phone: 918-966-3396
Our Email: okhfarm@brightok.net

Advance reservations required for groups of 10 or more
No fee for reserved school group tours, donations are appreciated
Fees during special educational events and exhibitions: Adults $5, Youths (6-18 years) $3, Children under 6 years free
Refreshments available with advance notice
Reservations Required for the following:
Group Tours|Meetings
Luncheons|Receptions
Dinners|Farm Picnics
Educational Workshops
Jim Combs, Manager
Rt. 2 Box 693
Keota, OK 74941

Come visit us in Sallisaw, Oklahoma