Paso Robles Victorian Christmas Showcase
Starting date:

Event# (805) 238-4103
Event Details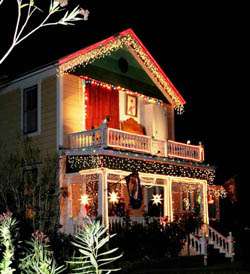 The Annual (Free) Paso Robles Vine Street Victorian Christmas Showcase. A "Christmas Present" from the Vine Street neighbors, friends, businesses, the Paso Robles Area Historical Society, the City of Paso Robles, and the Downtown Paso Robles Main Street Association.

Vine Street is one of the first residential streets in Paso Robles with many vintage Victorian homes. Traffic is blocked from 8th to 21st streets. Within this 13-block area, all the homes, offices and schools are beautifully decorated. Many homes have specific events such as storytellers, Scrooge, carolers, actors in period costumes, as well as Santa Claus. Visitors and locals stroll the streets greeting neighbors and friends for the holidays.
Paso Robles Victorian Christmas Showcase
Address :
8th to 21st on Vine Street
Paso Robles
CA
Phone :
(805) 238-4103
(Always call and confirm events.)
Web Address :
http://www.pasoroblesdowndown.org
Childrens Events
Attractions and Upcoming Events
Things to do near Paso Robles, CA