Pawnee, Oklahoma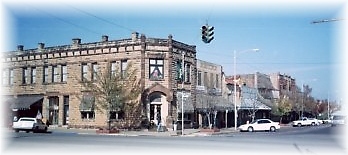 Pawnee ... "Where the West Remains"
Pawnee is a friendly little town with a proud past and a bright future of renewed spirit and enthusiasm. The splendor of the old west - cowboys and Indians are still very much alive today. The magnificent old buildings stand today as monuments of a time gone by. The historical pioneer days are waiting to be rediscovered. The community is blessed with the best of churches, hospitals, museums, many fine dining establishments, unique shops ... the year starts with celebrations and continues throughout the spring, summer, and fall, and ends with the "Festival of Lights" at Christmas ... and countdown to the New Year. A nice place to relax .. A friendly place to live ... A fun place to visit ... Come see for yourself!
Home of ...
The Pawnee Tribe of Indians - 1874
Gordon W. Lillie (Pawnee Bill), 1883 Showman
Chester Gould, Birthplace - 1900, Creator of the World Famous Dick Tracy Cartoon
Moses Yellow Horse - Only Full Blooded Native American to ever play Major League Baseball - Pittsburg Pirates - 1922
Hawk Chief - First person to break the 4 minute mile (unofficial)
and more ...
* Pawnee had the oldest Piggly Wiggly store in America,
* the oldest Chevrolet distributorship,
* the first Ford dealer in Oklahoma,
* the first telephone in the Territory,
* and the first murder in cartoon history was committed in Pawnee, OK at the old Fischer Bakery (in the Dick Tracy cartoon)!