Peabody 4th Fest
Starting date:

Event# 620-983-2174
Event Details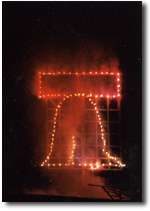 Peabody is known for having the largest ground display fireworks in the State of Kansas. Each year approximately 20 ground displays are created by volunteers. Volunteers begin working on the set pieces in early June.

Sponsored by the Peabody July 4th Society, this event is a longstanding tradition. During the mid 70's crowds were estimated at nearly 25,000-30,000 people. Recent crowds are estimated at 5,000.

Pre-4th of July dance, swim meet, carnival rides, kiddie rides, games, concessions, alumni BBQ, annual alumni dance, rifle salutes, horseshoe tournament, flea market, car show, kids games in the park, story time, dog show, 4th of July parade, Classic Rock concert in the Park , and Peabody 4th of July Fireworks display.
Peabody 4th Fest
Address :
City Park
Peabody
KS
Phone :
620-983-2174
(Always call and confirm events.)
Web Address :
http://www.facebook.com/peabodyfireworks
Admission Fee :
Gate admittance is charged.
Independence Day
Attractions and Upcoming Events
Things to do near Peabody, KS