category : Arts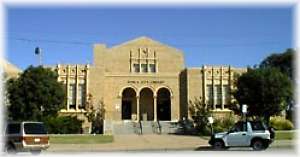 Housing much more than books, the Ponca City Library is home to the unique Oriental and Western art collection of Richard Gordon Matzene. A commercial photographer and art collector who lived in Ponca City for more than thirty years, Mr. Matzene obtained many fine painting and art objects during his eight trips around the world. Upon his death in August of 1950, the library became the recipient of his magnificent collection.

The library has one of the largest genealogical sections in the state and a large collection of books

about Oklahoma by Oklahoma authors.
The charming bronze, "Through the Eyes of a Child" by Jo Saylors a Ponca City artist, is located at the west entrance.

Admission: Free admission.
Hours: Mon-Thu 9 am - 9 pm, Fri 9 am - 6 pm, Sat 9 am - 5 pm.
Sun 2-5 pm (closed Sun, Jun-Aug)
Address: 5th and Grand
Phone: 580-767-0345
Guided tours available by advance reservation or pick up self-guided tour brochures.
Come visit us in Ponca City, Oklahoma