Prairie Center Holiday Bazaar & Silent Auction
Event Details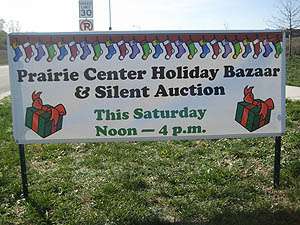 Put on your shopping shoes and grab your gift list - it's time for the Annual Prairie Center Holiday Bazaar & Silent Auction, Saturday, ~ Noon to 4:00 pm

Plan to spend some time at the school browsing the aisles in search of great gifts for yourself or someone you love. We have over 40 vendors participating this year - lots of new faces as well as familiar favorites - there is something for everyone on your list!

* Bid on fabulous themed baskets and class art projects in our Silent Auction!
* Have a bite ~ Kansas Coffee Cafe will feature lunch and snack items, and their terrific coffee!
* If the kids get bored shopping let them spend a little time with us in our Kids' Activity Booth!
* Kids can get creative with craft materials and do fun coloring/activity pages. There is no charge, but donations are appreciated.

Come out and support our great school ~ see you then!
* Check us out on Facebook, search "Prairie Center Holiday Bazaar" for more information. (Remember to click that you LIKE us!)

Vendors Include:
Thirty-One Gifts, Cookie Lee Jewelry, Patty Ann Bags, Suplise it's a Party! , Scentsy, kbCreations, Tupperware, Project Lydia, Pampered Chef, Shop with Susan, Turnings-By-Tom, Cate Eighmey Photography, Curt's Customs, Advocare, Tastefully Simple, K & K Designs, Wildtree, Kansas Coffee Cafe, Stella & Dot, Active Chiropractic, Mrs. Hager's Cinnamon Rolls, Celebrating Home, 18" Doll Dresser, Beijo, Tasha Orth Photography, BeautiControl/Your Door Day Spa, Juice Plus+, Hillside Honey, Glitter Girl KC, Our Sweet Pea Boutique, Ali Boop Crafts, It Works! , Mr. Williams Signs, Creative Cases + Salon J, QT Bug Bowtique, Kathy's Creations, Clever Lime, Silpada Designs, Clever Container, J&D Glassworks, Creative Memories, Velata, and more!
Prairie Center Holiday Bazaar & Silent Auction
Address :
Prairie Center Elementary School, 629 N Persimmon Drive, Olathe, KS 66061
Olathe
KS
Web Address :
http://www.facebook.com/PrairieCenterHolidayBazaar
Craft Shows
Attractions and Upcoming Events
Things to do near Olathe, KS