category : Camping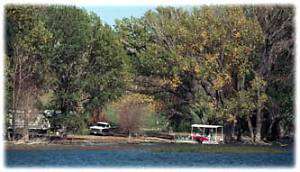 When you pass the prairie dog statue at the entrance, you know you've arrived at a unique state park. Prairie Dog State Park, on the north shore of Sebelius Reservoir, is a near perfect spot to get away from it all. The park's charm lies in the modest number of visitors who use the area. But don't let that fool you. Just like the larger, busier parks, there's plenty to do at Prairie Dog State Park.

Just inside the park entrance you'll find a growing prairie dog town. Future development of the site includes plans for an interpretive center. Two vintage 19th century buildings are preserved in the park. A one-room schoolhouse (just south of the park office), and an adobe house (north of Prairie Dog Campground), are snapshots of Kansas history.

Wildlife watching is an exciting treat. In addition to the park's namesake, pheasant, Canada geese, wild turkey, badger, and mule and whitetail deer can be observed in the area.

The 2,500 acre reservoir is a great place to boat, water-ski, windsurf, and fish. Black bass, walleye, wiper, crappie, catfish and saugeye are popular. A fishing dock is perfect for a family outing!

OPEN YEAR ROUND

CAMPING - Campsites at Prairie Dog include 40 designated sites with electric and water hookups, 12 designated sites with electric hookups. For a more relaxed atmosphere, try the Branded Cedar Campground where 6 electric hookups and numerous non-designated primitive sites are located. Other campsites available throughout the park include 14 designated primitive sites and 125 non-designated primitive sites. Shower and restroom facilities are located throughout the park, as are two RV dump stations. Seasonal and reservable sites are available. Water is available from April 15 through October 15.





The Leota cove area on the north side is the most highly developed, and use of this requires a State park permit, available at the park entrance, for each vehicle entering the park. This area has modern rest rooms, bathhouse and tempered water showers for the camping area. Available to camping units are several free electrical hookups on a paved lot and a waste disposal. Concrete "toadstool" type picnic shelters, information shelter, paved roads for access to the area, and central supply of treated water are also main features of this area.




The State Park south side boat dock has gravel road access, rest room buildings, hand pumps for water supply and picnic shelters.



Admission: Park Permit Required
Address: 4 miles SW of Norton on Hwy 36
Phone: 785-877-2953
Our Email: PrairieDogSP@wp.state.ks.us

Come visit us in , Kansas