Public Safety Center Groundbreaking Celebration
Starting date:

Event# 512-262-1010
Event Details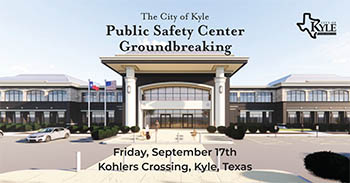 The community is invited to join the City of Kyle for the Public Safety Center Groundbreaking Celebration on Friday, Sept. 17, from 10 to 11:30 a.m. in Kyle, Texas.
The groundbreaking event will provide community members an opportunity to learn more about the features of the Public Safety Center. The building will serve as a facility dedicated to serving the public safety needs of the Kyle community as well as a place to honor veterans and first responders.

This $37 million project will grant room for the Police Department to grow over the next 20 years and beyond.

The Public Safety Center will also allow the Police Department to expand its services with dedicated space to:
-Improve emergency response times;
-Accommodate victims or residents experiencing trauma as a result of crime;
-Create an investigations suite and canine unit;
-Manage evidence processing and storage;
-Increase officer training and pursue accreditation; and,
-Expand community-based programs and mental health services.
Public Safety Center Groundbreaking Celebration
Address :
Kohlers Crossing
Kyle
TX
Phone :
512-262-1010
(Always call and confirm events.)
Web Address :
http://www.cityofkyle.com/police/public-safety-center-groundbreaking-celebration
Celebrations
Attractions and Upcoming Events
Things to do near Kyle, TX