Punderson Overnight Halloween Murder Mystery
Starting date:
Ending date:
Event# (440) 564-9144
Event Details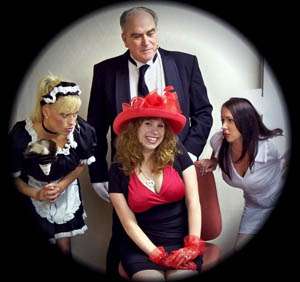 Punderson Manor Lodge will present Motive For Murder's "Where There's a Will...There's a Won't" October 29 - 30, 2011.

Your presence is requested for the reading of the late Sir Charles Worthington's last will and testament. On hand for this solemn occasion are his faithful manservant, his caring nurse, his nervous attorney, his newly hired maid and his lovely but dimwitted fiancée.

All seems fine until the proceedings are interrupted by the arrival of a familiar looking, rumpled, raincoat clad Lieutenant from Homicide.

Was Sir Charles murdered??? Will the killer strike again??? The only thing for certain is that you'll have the "crime" of your life searching for clues, interrogating the suspects and examining the evidence all the while trying to figure out whodunit.

Prizes will be awarded to the winning detective as well as for best costume (so come dressed to kill). Package includes overnight lodging, dinner, costume contest, cash bar, Sunday brunch and more. Prices based on double occupancy for lodge rooms/cabins.

For complete details, pricing, or more information please call Punderson Manor at 1-440-564-9144.
Punderson Overnight Halloween Murder Mystery
Address :
11755 Kinsman Road
Newbury
OH
Phone :
(440) 564-9144
(Always call and confirm events.)
Fax :
(440) 564-7340
Web Address :
http://www.pundersonmanorstateparklodge.com
Halloween
Attractions and Upcoming Events
Punderson State Park is located in Geauga Co., 25 mi. east of Cleveland. With a picturesque setting, Punderson is a great escape any time of year.
Enjoy golf on the 18-hole golf course (Call for tee times.) Hike 14
Newbury, OH
State Parks
---
---
Located in the natural splendor of Punderson State Park, only 50 minutes southeast of Cleveland, Punderson Manor Resort & Conference Center is a historic English Tudor Style mansion featuring 31 spacious guest rooms, 26
Newbury, OH
State Parks
---
Things to do near Newbury, OH