Red Cloud, Nebraska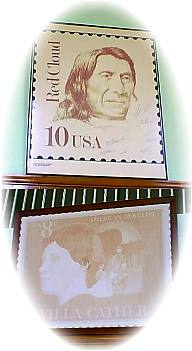 Nestled in the scenic Republican Valley, Red Cloud, Nebraska has probably been described more often in literature than any other village of its size. This Webster County Seat was once the home of Willa Cather (1873-1947), the noted American author.
Because of the significance of Cather's writings and the history of Red Cloud and Webster County, the area was designated The Willa Cather Thematic District, and is listed in the National Register of Historic Places . The thematic district encompasses twenty-six individually significant sites and four historic districts, including the Cather Prairie. In all, more than 190 sites are included in the district, making it possibly the largest historic district dedicated to an author in the United States.
For recreation there is a challenging 9-hole golf course with watered grass greens and fairways, an outstanding baseball facility, a competition sized swimming pool with new bath house, a six-lane bowling alley and a 3/8 mile high-bank, oval dirt racetrack.
Visit this appealing town and enjoy its late 19th century architecture, bricked main street, and historically enhanced lighting.
History... Red Cloud, named for the Oglala Sioux chief, was founded early in 1871 on homestead land filed upon by Silas Garber and Company, July 17, 1870, at Beatrice, the nearest land office. It is one of the oldest communities in the Republican Valley. When Webster County was organized, Red Cloud was voted County Seat at the first county election, April 19, 1871. The election was held in the dugout of Silas Garber, Nebraska's governor, 1875-1879.
The meeting of the Burlington and Missouri River Railways reached here in 1879, accelerating immigration from the East and abroad, bringing together a colorful variety of cultural heritage. During the 1880s, Red Cloud served as a division center for the railroad. The architectural design of Webster Street was established during that prosperous time when many of the first frame and log structures were replaced by more elaborate buildings of brick and stone.