Renaissance Festival
Starting date:
Ending date:
Event# 520-463-2700
Event Details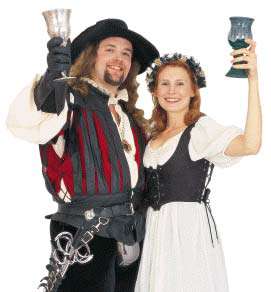 The Renaissance Festival is a medieval amusement park, a 12-stage theatre, a 30-acre circus, and arts and crafts faire, a Jousting Tournament and a feast, all rolled into one non-stop, day-long, family adventure! One of the largest events of its kind in the nation, the Arizona Renaissance Festival is a time to revel in the atmosphere of a 16th Century European Country Faire. Explore the bustling marketplace and mingle and interact with nearly 2,000 costumed characters and their endless merriment and mayhem.

Wear comfortable shoes, come rain or shine, and expect to find more than a full day's worth of entertainment. Continuous performances are held nearly every half-hour on the dozen stages spread throughout the beautifully decorated theme park. "Huzzah!" is the cheer of the day!

The Festival is open on weekends, Saturdays, Sundays and Presidents' Day Monday, from the first Saturday in February through the last Sunday in March. Festival hours are 10:00 AM until 6:00 PM.
Renaissance Festival
Address :
The Arizona Renaissance Festival is located near the foothills of the Superstition Mountains on State Highway 60, east of Apache Junction.
Apache Junction
AZ
Phone :
520-463-2700
(Always call and confirm events.)
Web Address :
http://arizona.renfestinfo.com/
Admission Fee : Advance ticket prices are: $16.00 for adults and $6.00 for children 5-12. Gate prices are $2 more. Seniors 60+ are $15.00.
Free Parking.

Festivals
Attractions and Upcoming Events
Things to do near Apache Junction, AZ