Reunion Days
Starting date:
Ending date:
Event# 918-967-8681
Event Details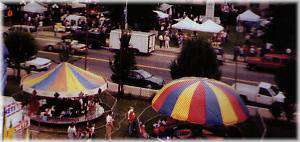 THIRD WEEKEND - Activities include an all day gathering Saturday on the Courthouse lawn where people can enjoy a variety of local entertainers, arts and crafts, and lots of games.

The Court House Square has aroma you can't resist! People come from everywhere just to get the homemade Ice Cream the MRS Club brings and for some of the best Indian Tacos you ever tasted. Charcoaled hamburgers and baked goods are sure to make your mouth water.Reunion Days consist of Arts and Crafts, games all day long for the children of all ages, sanctioned 5K run and race and 1 mile walk at Roye Park, class reunions going on all over Stigler, and of course the one big reunion at the Kiamichi Technology Center for everyone, we have musical entertainment all day, grab bags for everyone, and prizes for different occasions. Norma Howard, our local artist of Choctaw Indian Art illustrating stories of her ancestors, takes off from her successful art shows and has her art here for Reunion Days.

It is a time when many former Stigler classmates reunite to reminisce and catch up on the years gone by.
Reunion Days
Address :
Stigler, Oklahoma
Stigler
OK
Phone :
918-967-8681
(Always call and confirm events.)
Fax :
918-967-4319
Festivals