Saint Albans, West Virginia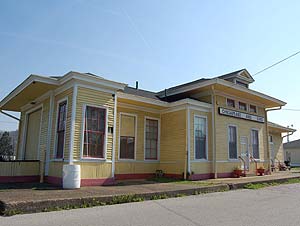 Fort Tackett was built in 1786 on land that originally belonged to George Washington and deeded to him for his service in the French and Indian War. The community of Coalsmouth was established at present day St. Albans and became a lumber and railroad town. The Coal River that flows through St. Albans was discovered in 1742 by explorer John Salley and named for its vast outcropping of coal. He eventually paddled his canoe all the way to New Orleans and returned by ship to Virginia and wrote of his travels in his diary.
George Washington's greatnephew, Samuel Washington Jr., lived here for awhile and supposedly is buried in the Bangor Cemetery in town, although his tombstone is long gone. His father, Samuel Washington, who lived in the Poca area, is also buried at Bangor Cemetery. He inherited 3,500 acres near here as well as a famous battle sword from George Washington and Benjamin Franklin's gold-headed cane, which was presented to Congress in 1843 and can be seen at the Smithsonian.
The famous James River & Kanawha Turnpike passed through St. Albans and many Inns were established and a covered bridge once crossed the Coal River, but was burnt during the Confederates retreat during the Civil War in 1861 following the Battle of Scary Creek, a few miles down river. Eleven locks and dams were constructed on the Coal River in 1855 and continued until after the Civil War.
St. Albans has eleven (11) sites listed on the National Register of Historic Places and their Historical Society frequently conducts historic walking tours. Main St. was recently added as an Historic District. The Archaeological site along the Kanawha river is one of the oldest in the United States and artifacts have been dated to 7,900 BC. It is listed as a National Historic Landmark.
St. Albans, a town of approximately 12,000 people, has also gone by the name of Ft. Tackett, Coalsmouth, Phillipi, Village of Jefferson and the Village of Kanawha City. It was incorporated in 1872 and was named St. Albans by chief counsel of the C&O railroad, H. C. Parsons, in honor of his hometown in Vermont. The town became prosperous in the early 1900's due to the numerous saw mills in the town and the shipping of coal on the railroads.
The St. Albans area is home to more than 24,000 people who appreciate its convenient location – just a 20-minute drive to Charleston – and its small town charm. In St. Albans you'll find outstanding recreational opportunities, a progressive school system, hospitable businesses, and above all, friendly people.