Sallisaw Cruise Night and Burnouts #4
Starting date:

Event# 918-315-9077
Event Details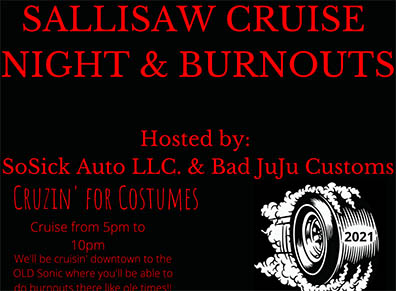 Welcome to the 4th Sallisaw Cruise Night and FINAL one of the year. WE ARE CRUISIN' FOR COSTUMES. I'm hosting the Burnout Contest at the Old Sonic next to AutoZone and it's $5 to enter. You can register on location at AutoZone starting @ 3pm and deadline will be at 4:30pm. If you want, I can send you a copy of the registration form, you print, fill it out, and turn it in before the deadline. If you have any questions, text me anytime 9183159077. Burnouts and Cruise will start @ 5pm and Burnout will end around 8pm, Cruise will end around 10pm. If you would like to donate Halloween Costumes for this cause to help out a family whom may not be able to provide one for their own, then PLEASE partake in this cause and you can drop-off at AutoZone where I'll be setup or at The Car Meet/Cruise In.

This will be pretty much an all day affair.

Their will be a Cruise In/Car Meet 10am-2pm @ the Sallisaw High School parking lot

BrokeBoisAudio Stereo Competition Stateline Finals 11am-4pm @ the High School parking lot

Kids Zone will consist of Bounce Houses at Scott's Furniture parking lot FREE to the kids

BrokeBoisAudio hosting a Car Light Show and Trunk or Treat 8pm-??? @ Lee's Tire

We will have plenty of Food Vendors to accommodate your needs

1st Place............$500 CASH

2nd Place...........$300 CASH

3rd Place............$150 Gift Card from Walmart

4th Place............$100 in prizes from AutoZone

5th Place............$50 in prizes from O'Reilly Auto Parts

SPONSORS:
A Ok Printing - All American Detail - AutoZone - Best Mart - Bill's Used Tires - Blue Ribbon Sallisaw - BrokeBoisAudio - Chandler Collision Center - Charlie's Chicken - D&H Twisted Wrenches - Dave Smith's and Sons Autobody - Diamond Xpress - Earth's Food Barn - Fullbright Auto Wash - Hogcreek Salvage and Towing - Huff's Fillin' Station - Ink Effects - J and J Auto - Lee's Tire - Maria's Mexican Restaurant - Mcgowan's A-1 Tree Service - Natural Meds Farm - Oklahoma Jeep Mayhem - O'Reilly Auto Parts - Outlaw Dragstrip - Pit Stop - River Valley Supply - Rugers Grill - Sallisaw Car Audio and more - Sallisaw Inn - Sallisaw Lumber - Sallisaw Muffler Shop - Scott's Furniture - Sonic of Sallisaw - Stuckey's - Top Shelf Medicinals - T&R Customs - TS Grow Solutions - Walmart of Sallisaw

Remember to maintain Social Distancing

I ASKED THAT EVERYONE RESPECT THE TAPED OFF AREAS BUT STAFF AND PARTICIPANTS FOR YOUR SAFETY!!!!!

ALWAYS wanna give special thanks to all sponsors whom support my events for the community and thanks to Hogcreek Salvage and Towing for opening up the Old Sonic to host on their property.

NOT RESPONSIBLE FOR ANY UNLAWFUL ACTS OF ANY KIND!!!!!

SHARE SHARE SHARE SHARE SHARE!!!!!
Sallisaw Cruise Night and Burnouts #4
Address :
Downtown/High School, 1703 E Cherokee
Sallisaw
OK
Phone :
918-315-9077
(Always call and confirm events.)
Web Address :
http://www.facebook.com/groups/459429588276947/permalink/854397895446779/
Admission Fee :
Free. Registration $5.00
Car Shows
Attractions and Upcoming Events
Things to do near Sallisaw, OK