category : Museums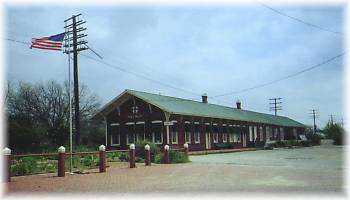 After a victorious battle to save the 1905 depot from demolition in 1989, the city officials finally secured ownership of the old Santa Fe Depot and turned it over to the Historical Society to renovate and manage. In 1991, a few members began working on the once busy and proud old depot, and soon more workers volunteered, businesses donated or discounted supplies
(the Department of Corrections labor even offered valuable assistance) and now, a once eyesore has become a bright spot at the end of Paul Street.

The depot has become a museum and meeting spot, a place for programs and parties, but still maintains most of its original integrity. A wonderful collection of old photos, school memorabilia and pioneer collectibles are on display.


A steam locomotive and coal tender that once traveled over these tracks has found a permanent home near the depot. Recently a vintage red caboose was purchased and rests behind the engine.

Walking and Driving Tours of historical Pauls Valley are available in a self-guided brochure.


Admission: Open 10:00 AM to 5:00 PM, Monday through Saturday, Sunday afternoons, and by appointment
Address: 204 W Paul
Phone: 405-238-2244


Come visit us in Pauls Valley, Oklahoma