Santa Fe Indian Market
Starting date:
Ending date:
Event# 505-983-5220
Event Details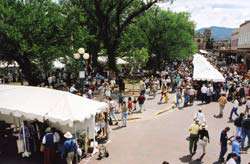 A cultural gem of New Mexico, the Santa Fe Indian Market has been taking place for over 80 years! The Market includes over 1,000 Native American artists from about 100 tribes across the United States who show their work in over 600 booths. The event attracts an estimated 100,000 visitors to Santa Fe from all corners of the the world. Buyers, collectors and gallery owners come to Indian Market to take advantage of the rare opportunity to meet artists face-to-face and learn about contemporary Indian art and culture.There are demonstration booths, a youth market, and food vendors to add to the overall event. Quality is the hallmark, as SWAIA sets the standards for different classifications in which participants sell.

The Santa Fe Indian Market is held the weekend after the third Thursday every August. The event is free and open to the public as it is held on the Plaza and surrounding streets in downtown Santa Fe, NM. SWAIA sponsors other events that support the non-profit organization and the Santa Fe Indian Market. Please contact SWAIA for details.
Santa Fe Indian Market
Address :
On the Santa Fe Plaza, downtown Santa Fe
Santa Fe
NM
Phone :
505-983-5220
(Always call and confirm events.)
Web Address :
http://www.swaia.org
Art Shows
Attractions and Upcoming Events
Things to do near Santa Fe, NM