Sarasota Fall Fest Carnival
Starting date:
Ending date:
Event# 866-666-3247
Event Details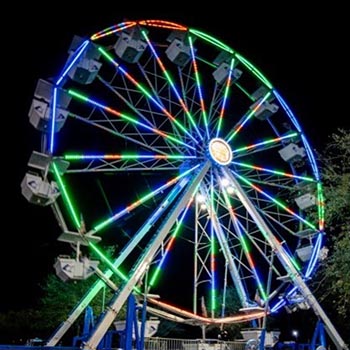 Unlimited ride wristbands (for riders 36" and taller) are $35 on site while supplies last and discounted online pre-sale (before 5pm Oct. 21) for $29 each, 2/$55 or 4/$99. On Saturday and Sunday, ride wristbands will only be available from 5pm to closing.

Ride tickets are sold at the carnival for $1.50 each, $30/20 tickets, or $60/50 tickets plus 1 free ride. (Rides take 2 or more tickets each.) Online pre-sale special: $45/50 tickets + 1 free ride.

Visit the website for coupon savings on rides and food.

Midway hours: 5-10pm Thursday, 5-11pm Friday, noon-11pm Saturday, noon-10pm Sunday

Parent/guardian supervision is required for carnival guests ages 17 and younger. Check the website for event updates before attending.

For more information on the carnival, call 866-666-3247.

The Fall Festival will feature live music and entertainment, a pumpkin patch, crafters, vendors, food trucks, a beer garden, and Sunday activities including the Little Miss & Mister Pumpkin Pageant (11am), Pet Costume Contest (3pm) and Trunk or Treat (4pm). See the "Fall Festival at University Town Center" event page at Facebook.com for details.
Sarasota Fall Fest Carnival
Address :
The Mall at University Town Center, 140 University Town Center Drive
Sarasota
FL
Phone :
866-666-3247
(Always call and confirm events.)
Web Address :
http://dreamlandamusements.com/upcoming-events-amusement-carnival/#university
Admission Fee :
Free admission. Ride cost varies.
Carnivals
Attractions and Upcoming Events
Things to do near Sarasota, FL