category : Arts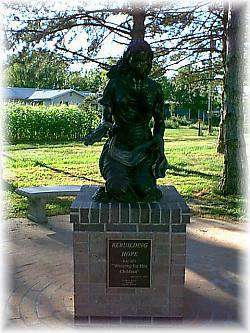 Israel's matriarch, Rachel, was heard weeping for her children during the jewish exile and again during Herod's slaughter of the innocents. In recent years, Rachel has come to symbolize the spiritual battle to preserve the gift of life in a culture which loses many children to abortion, violence, suicide, substance abuse and family breakdown.

The Knights of Columbus of Cambridge and Arapahoe, Nebraska commissioned Cambridge artist, Sondra L. Jonson, to create an original sculpture of Rachel that would show their commitment to the respect of life and preservation of the family.

Jonson designed the bronze Rachel kneeling in prayer, cradling an empty blanket, to reflect a society bereaved of its children, yet a society looking to God for healing and redemption. The rose at Rachel's side is the sign of her confidence in God and hope for her future.
"My intent," said the artist, "is that Rachel stand as a beacon, radiating a message of hope, forgiveness, and peace, enclosed in the quiet power of her prayer. May she reach out to inspire young people to value life and make choices that bring them close to God."
This bronze sculpture of Rachel Weeping for Her Children is entitled "Rebuilding Hope." It was created in 1999 and is located in the garden park surrounding The Shrine of Fatima.

Hours: Accessible Year Round
Address: Highway 6 & 34 just west of Arapahoe

Come visit us in Arapahoe, Nebraska