Sedona, Arizona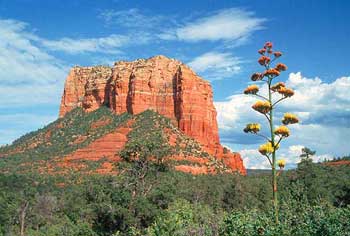 Sedona is a city and community that straddles the county line between Coconino and Yavapai Counties in the Verde Valley of northern Arizona. As of the 2000 census, the city had a total population of 10,192. Founded in 1902, it has become a gathering place for New Age adepts, who believe some of the rocks and pre-Columbian archaeological remains (such as rock dwellings) of the region have a mystical power. Believers in Vortex Healing believe the Sedona area is the home of several vortices.
One of Sedona's main attractions is its stunning array of red sandstone formations, the Red Rocks of Sedona. The Red Rocks form a breathtaking backdrop for everything from New Age spiritual pursuits to the city's renowned Jazz on the Rocks festival.
Politically, Uptown Sedona (the part in Coconino County) and West Sedona (the Yavapai County portion) form the City of Sedona. Originally founded in 1902, the town was incorporated into a city in January 1988. The Village of Oak Creek, despite its location seven miles to the south and outside Sedona city limits, is a significant part of the community.