category : Historic Mills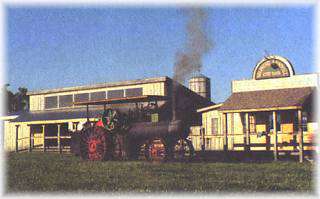 The Shepherd family has operated sawmills in this area for many years. The family built this sawmill to honor all members of the family. The sawmill is steam powered by a 1918 Case steam tractor. The tractor is the same type of steam tractor that provided the power for the threshing teams that used to move through this area serving the farmers. The tractor is 20' long and 10' tall. The rear wheels are 6' tall and two feet wide. It has a top speed of 2 1/5 miles per hour.
The sawmill is completely operative and is used to saw much of the lumber needed to provide some of the Park improvements. The sawmill is in operation during most of the events at the Park.
The office of the sawmill is furnished much as it would have been when the family first started operation. There are many historical items and information in the office/museum. This area is also open at special Park functions. It is possible to view this area from the walkway that has been constructed for viewers along the side of the mill.
There is a shop adjoining the office that is also equipped to maintain the tractor and the sawmill equipment. This shop is also visible from the walkway.
The building on the north end of the sawmill houses old machinery, a White truck, and a Model T Ford truck that is very similar to the trucks used in operating the original mill.

Hours: Hours: Sunrise to Sunset
Address: 11262 Jolly Mill Lane
Phone: 417-476-2607

Come visit us in Pierce City, Missouri