Snowflake, Arizona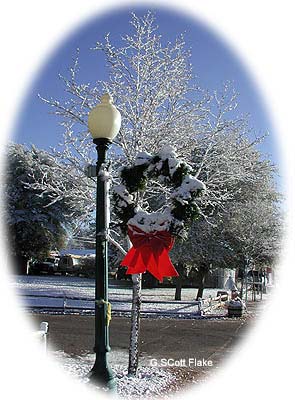 The Town Where the Christmas Spirit Lives All Year
Snowflake is located in east-central Arizona where the Mogollon Rim and the White Mountains offer some of the most exciting recreational opportunities in Arizona. From the majestic views of the Navajo Nation's famous Monument Valley, to the Historic Route 66 experience, and world-reknowned Petrified Forest, day trips north of the community can be packed full of adventure.
Founded in 1878, Snowflake was named after its founders, Apostle Erastus Snow and Mormon land agent, William Flake. Different than the rough towns that often sprang up in the Arizona Territory, the Mormon pioneers were determined that civilization, education, and culture were important. Churches, schools, and solid homes were constructed, and plays, musicals, dances and celebrations were enjoyed along with the hard work necessary to establish themselves in a new land.
Snowflake has enjoyed a modest, but steady growth through the years, and many descendants of those early pioneers still live on in the town. New families, "modern pioneers" are today making their home in Snowflake, to enjoy the friendly residents, clean air, and safe neighborhoods that still retain the pioneer atmosphere that is rare to find. The community has taken great care to preserve and the restore the historic aspects of the town, and many visitors come to the region to walk the historic buildings, monuments, and museums.