Sonoran Festival of Fine Art
Starting date:
Ending date:
Event# 480-488-3381
Event Details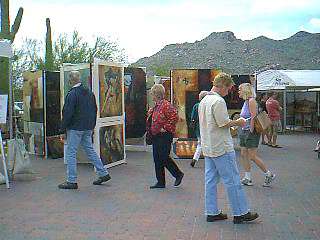 You are cordially invited to attend Sonoran Festival of Fine Art where 100 national and locally acclaimed artists will display their creations at Carefree Town Center.

The Sonoran Festival of Fine Art differs from some other Valley art shows in that all artwork is juried and artists will exhibit original art. There will be no imports, manufactured goods, or artwork produced from commercial kits, molds, patterns, plans, or prefabricated forms. Visitors to our show can be assured that each piece of art they view and purchase has been master-crafted by the artist.

The Festival features a wide variety of both functional and non-functional objects of art, produced by celebrated artists, such as painters, sculptors, jewelers, and photographers, among others. Glass, ceramics, wood, metal, bronze, stone, beaded leather, and designer clothing are among the mediums represented. Along with Sonoran Art League members, renowned artists from across the United States will participate in this event.

Art lectures and hands-on art demonstrations will be presented each day at 10am and 2:30pm. Entertainment, music, and song will fill the air daily from 11am to 2pm in the Amphitheater area, where food and beverage vendors will be offering a variety of cuisine. Sonoran Arts League Ambassadors will be available to assist visitors in exploring the Festival's many features. Special interest booths dedicated to wildlife, animal rescue, special needs assistance dogs, and desert preservation will be nestled in the Center's garden area.
Sonoran Festival of Fine Art
Address :
Downtown Carefree
Carefree
AZ
Phone :
480-488-3381
(Always call and confirm events.)
Web Address :
http://www.sonoranartsleague.org
Art Shows