category : Recreation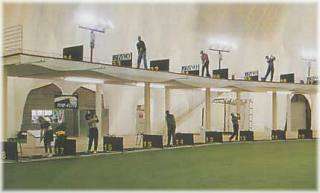 South Ridge Golf Club and Dome is a landmark in the Siouxland area. Built in the late nineteen
twenties the course was continually changed with the purchase of additional land and new
innovative ideas. This well established golf course has lots of character in the youthful fairways
and well manicured greens. Signature hole number eight is one of the toughest par fours in the

area. The tee box is flanked by trees on either side of the 400 yard fairway, a blind green with
the dogleg right and a very narrow landing area.
Not only will you be able to enjoy
golfing a great course but also have access to Siouxland's only indoor golf dome. After five years of
dreaming and planning, the dome is now a reality.
The structure of the domain is 620' x 160' x 70' high, two of levels with sixteen golf stations on
each floor. The dome will also serve other purposes, the Greater Sioux City Soccer Association
has already scheduled practices and game times, along with several other sporting groups
using the facility for practice sites. Don't be surprised if you are watching a softball league or
flag football game in the dome.
Business or private parties will be welcome to entertain clients or have parties in the upper deck
of the dome. Any size or type of party will be welcome this new facility. Other incentives that
will be offered will be senior mornings, college discounts, Friday lunch specials with a bucket of
balls, school rates and birthday parties.
Ideal for:


New or experienced golfers, families, business travelers


Trying new clubs from our pro shop before you buy


Corporate outings, school golf teams


South Ridge Dome Features:


40,000 sq. ft. climate controlled indoor driving range


34 tees on two levels


Putting green


Realistic hitting surface


Clubs available for children and adults


Low-cost timed play



Address: South Ridge Dome
618 W 29th St
South Sioux City, NE 68776
Phone: (402) 494-4323
Our Email: Sara@southridgedome.com
Our Website:www.southridgedome.com

Come visit us in South Sioux City, Nebraska