St. George Winterfest
Starting date:
Ending date:
Event# 866-666-3247
Event Details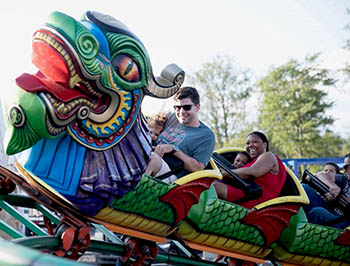 This family-friendly annual community event features a carnival with thrilling rides and games for all ages and favorite fair food, and a festival with music, food trucks and vendors.
Event parking and admission are free.

Unlimited ride wristbands (for riders 36 inches and taller) are $35 on site and discounted online pre-sale (before 5 pm Jan. 28) for $20 each, 2/$35 or 4/$60.

Ride tickets are also available at the carnival for $1.50 each, $30/20 tickets, or $60/50 tickets plus 1 free ride. (Rides take 2 or more tickets each.) Online pre-sale special: $45 for 50 tickets + 1 free ride

Visit the website for coupon savings on rides.

Carnival hours: 5-11 pm Friday, noon-11 pm Saturday, noon-10 pm Sunday

Parent/guardian supervision is required for carnival guests ages 17 and younger. Please check the website for event updates before attending.
St. George Winterfest
Address :
St. George Greek Orthodox Church, 9426 Little Road
New Port Richey
FL
Phone :
866-666-3247
(Always call and confirm events.)
Web Address :
http://dreamlandamusements.com/upcoming-events-amusement-carnival/#stgeorge
Admission Fee :
Free admission. Ride cost varies.
Carnivals
Attractions and Upcoming Events
Things to do near New Port Richey, FL