category : Historic Churches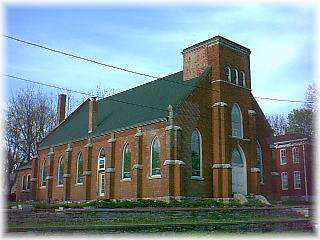 Catholicism in Peirce City is as old as the town itself when in 1870 the Frisco railroad laid the first tracks through here going west to Kansas. Many of the railroaders were Irish Catholics.
It was Father Graham who organized the small congregation scattered over three counties and built the first Church in the year 1871, a small frame building which served its purpose for about seventeen years. In June of 1898, the property on Washington Avenue and Myrtle Street was purchased from Dr. Hansard for less than $1,000.00, and the congregation built the new brick St. Patrick's. The cornerstone of the pretty Gothic Church was laid October, 1899, and the Church was completed in the fall of 1901. The material of the old foundation was used in the new, and the members of the congregation did most of the unskilled work. In this was the cost of the new building was reduced to a minimum.
Because of a shortage of priests, a Decree was issued terminating services in St. Patrick's Church, which stated that Holy Mass was not to be offered in St. Patrick's Church after Sunday, September 5, 1954. Thus the 84 year glorious history of St. Patrick's Church came to a close.
The illustrious Gothic structure still graces the corner of Washington and Myrtle, and in the true spirit of the age - the age of Ecumenism - it is now known as the Masonic Temple, purchased by the Masonic Order in 1966. The church has been resold again and is now in private ownership, but it still maintains its historical style. (this building is under repair as of October 2003 after sustaining damage in the May 4, 2003, tornado.
Located adjacent to the church on the east, is the Hansard House, the rectory of St. Patrick's Church, now occupied by private owners, but beautifully maintained in its historical style. (Hansard House was repaired after sustaining tornado damage, primarily to the interior of the building, in 2003).

Address: Washington and Myrtle Streets

Come visit us in Pierce City, Missouri