Statehood Ball - 2019
Starting date:

Event# 785-263-2681
Event Details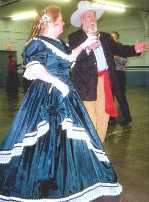 Celebrate Kansas' birthday with an 1860's period dance at the Statehood Ball. This annual event is a fun activity for the whole family. The Kansas Brigade Band plays 1860's period music and many like to dress in period clothes and learn some of the dances that were popular in 1861. Although 1860's clothing is not required, dancers from all over the state come in period dress and join local residents. This is an event for the entire family. The ball begins with the "Grand March" and is follow by a waltz. Other dances scheduled include the Virginia Reel, the Jenny Lind Polka and the Hat dance. Refreshments will be served. 7:00 to 10:00 PM.
Statehood Ball - 2019
Address :
Sterl Hall, County Fairgrounds, 619 N Rogers
Abilene
KS
Phone :
785-263-2681
(Always call and confirm events.)
Web Address :
http://www.heritagecenterdk.com
Admission Fee :
$6.00 for non-members, $4.00 for DCHS members, $2.00 for children under 12 years of age.
Festivals
Attractions and Upcoming Events
Things to do near Abilene, KS