Sulphur, Oklahoma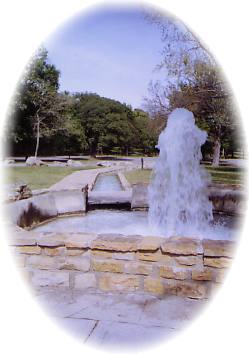 Located in the heart of the scenic Arbuckle Mountains, Sulphur is a hidden paradise of beauty, peaceful hometown ethics and family values.
American Indians discovered the clear natural springs several millenniums past. White settlers discovered the area in the late 1800s. The city of Sulphur Springs developed around the springs and quickly became an attraction due to the \"medicinal qualities\" of the waters. Hundreds of testimonials brought trainloads of people into the area. The Chickasaw Nation feared that the springs would be fouled and transferred the land to the United States government to be protected in 1902. the first national park in Oklahoma had begun.
Word quickly spread of the benefits of the mineral waters and the city of Sulphur experienced quite a boom in tourism. Thousands came by train and wagon claiming remarkable recoveries and praising the healing waters. Sulphur drew many people to the black mud of spring-fed Rock Creek, where they would pack on the mud and make claims to its miraculous healing powers. These same running streams, bubbling springs and gushing wells welcome visitors today.
Visit historic downtown Sulphur, a member of the Oklahoma Main Street project, and browse through gift shops, antique shops and other unique shops or visit one of the last single screen theatres in Oklahoma.
Sulphur is the home of the Oklahoma School for the Deaf and the Oklahoma Veterans Center. You can send the kids to the skating rink and enjoy a leisurely game of golf. Come in June for our Sulphur Days Spring Water Festival, in October for Art in the Park or in December for the 1906 Candlelight Tour. Bicyclists enjoy our Hills of Oklahoma Tour in the fall; runners our 5K run in August.