category : Recreation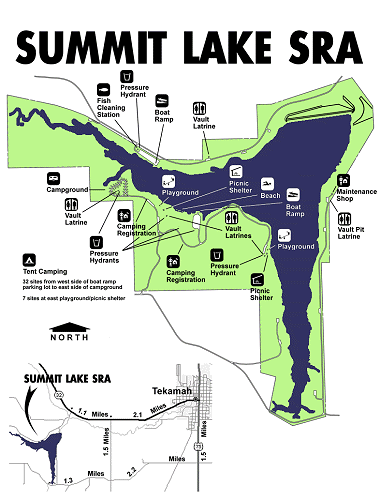 Summit is a 190-acre lake with 345 acres of
land. While not the jewel it once was, Summit Lake has a sparkling future. Nebraska Game and Parks Commission began draining the 190-acre lake in July 2000. In the spring of 2001, construction began on a number of renovation projects, including a complete restructuring of the fish population. As the projects are completed, the commission will refill and restock the lake.
Included on the 345 land acres is a minimum fee campground, $3-5, with 15 trailer pads and 85 designated campsites. Facilities are primitive, but picnic tables are available, as are fire grates, shelters, water and vault toilets. There is also a boat ramp and hiking trails.

Hours: Open year round.
Address: 4 mile west of Tekamah.
Phone: (402) 374-1727

Come visit us in Tekamah, Nebraska