The Association @ Infinity Music Hall & Bistro Norfolk, CT
Starting date:

Event# 866-666-6306
Event Details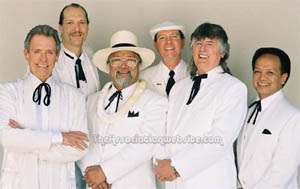 Sunday, October 2, 2011 @ 7:30 PM. Back by popular demand! The Association have Seven Billboard Top 40 hit songs including Two #1 hits "Windy" & "Cherish", one #2 "Never My Love", #7 "Along Comes Mary" & #9 "Everything That Touches You". The Association also sang and wrote title track from the 1969 Richard Benjamin-Ali McGraw classic film,"Goodbye Columbus". The group features three original vocalists members Jim Yester, Larry Ramos & Russ Giguere. It all started in 1965 with the breakup of one of the first folk rock ensembles called, "The Men". What was originally an 11 member singing group, ultimately became the 6 man band named, "The Association!" In 1967, The Association made history being the first band anywhere to open a rock festival the now historic, Monterey Pop Festival. One of the most successful bands to come out of the 60's, they have sold over 80 million records, tapes, Cds and DVDs. They've earned a number of achievement awards as well as 6 gold records and 2 platinum records. Their album, THE ASSOCIATION GREATEST HITS (Warner Brothers), continues to be one of the longest best-selling albums in the history of the company.
The Association @ Infinity Music Hall & Bistro Norfolk, CT
Address :
Infinity Hall & Bistro, Route 44, Norfolk, CT
Norfolk
CT
Phone :
866-666-6306
(Always call and confirm events.)
Web Address :
http://www.infinityhall.com/
Admission Fee :
$50.,$70.
Concerts
Attractions and Upcoming Events
Things to do near Norfolk, CT