The Association @ The Birchmere Alexandria VA
Starting date:

Event# (703) 549-7500
Event Details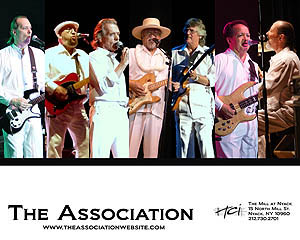 Back by popular demand! ...The Association, one of the greatest rock vocal groups of the 1960s. Million selling hit singles include #1 "Windy", #1 "Cherish", #2 "Never My Love", #5 "Along Comes Mary", #9 "Everything That Touchs You". How many people have seen the Windy 7up commerical with Brad Garrett? Thousands of people used "Cherish" or "Never My Love" as their first dance at their wedding reception. "Never My Love" is the second most played song on the radio of all time. How many memories do you have of The Association? Don't miss this wonderful band! Start the New Year right! Make your plans now.
The Association @ The Birchmere Alexandria VA
Address :
The Birchmere, 3701 Mt Vernon Ave, Alexandria, VA
Alexandria
VA
Phone :
(703) 549-7500
(Always call and confirm events.)
Web Address :
http://www.birchmere.com
Concerts