The Brooklyn Bridge @ Great Auditorium Ocean Grove NJ
Starting date:

Event# (732) 775-0035
Event Details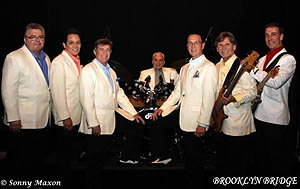 One of the best rock n roll vocal groups of the 60s and 70s! THE BROOKLYN BRIDGE. The Bridge were formed in 1968 from members of The Crests (50's doo wop classics including "16 Candles"), The Del Satins (Dion's backup singers on all his hits including Runaround Sue and The Wanderer) and the NY powerhouse rock n roll band The Rythmn Method. Fantastic show with Tons Of Million Selling Hit Songs; The Brooklyn Bridge was featured in one of PBS's biggest fundraising events ever, "Doo Wop 50", performing both "16 Candles" and "The Worst That Could Happen". This special has been repeated dozens of times on PBS TV. In 2005, the Brooklyn Bridge released a full concert-length DVD as part of the Pops Legends Live series. The Brooklyn Bridge was inducted into the Vocal Group Hall, Of Fame, South Carolina Music (Rhythm and Blues) Hall of Fame , and the Long Island Music Hall of Fame. Tickets are on sale now.
The Brooklyn Bridge @ Great Auditorium Ocean Grove NJ
Address :
Great Auditorium, Pilgram Parkway, Ocean Grove, NJ 07756
Ocean Grove
NJ
Phone :
(732) 775-0035
(Always call and confirm events.)
Web Address :
http://www.oceangrove.org/
Concerts