category : Museums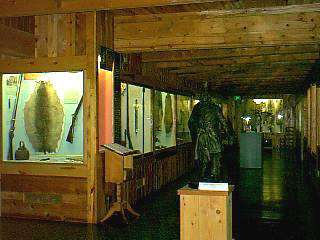 The museum is dedicated to preserving the rich history of the North American fur trade and is located three miles east of Chadron, Nebraska, on U. S. Highway 20.
Combining an outstanding collection and scholarship to interpret the story of the fur trade, the non-profit museum's three galleries discuss the fur trade from early colonial days to the present century. The exhibits trace the everyday lives of British, French, and Spanish traders, voyageurs, mountain men, professional buffalo hunters, and typical Plains and Woodland Indians.
Exhibits include the entire range of trade goods, including munitions, cutlery, axes, firearms, textiles, costumes, paints, and beads. This museum is internationally recognized for holding the largest known collection of northwest guns from 1500 to 1900.
The Museum of the Fur Trade is located at the site of an original trading post. It was established by the American Fur Company in 1837 and operated until 1876. James Bordeaux, a Missouri Frenchman called "The Bear" by the Indians, first operated the post. The trading post and warehouse were reconstructed in 1956 on the original foundation stones. They are listed in the National Register of Historic Places.
THE MUSEUM SHOP
Authentic American Indian craftwork, precise reproductions of artifacts in the museum's collection, duplicate collection material, and a complete array of books about the fur trade are available in the museum shop. Visit the museums web site to browse items. Prices include shipping and handling in the U. S. Send check or money order to the Museum of the Fur Trade, 6321 Hwy 20, Chadron, NE 69337.

Admission: Admission: Adults 18 and over, $2.50; Children free with parents, otherwise $1.00; groups of 20 or more, half price.
Hours: Hours: Memorial Day through Labor Day, 8:00 a.m. to 5:00 p.m. Every Day
Address: Museum of the Fur Trade
6321 Highway 20,
Chadron, NE 69337
Phone: (308)-432-3843
Fax: Fax: (308)-432-5963
Our Email: museum@furtrade.org
Our Website:www.furtrade.org
Visits during the winter season are not recommended; however, many school groups and interested individuals arrange for visits during the fall and spring portions of the closed season. Please call for an appointment.
Come visit us in Crawford, Nebraska