The Original Pawnee Bill's Wild West Show and Festival
Starting date:
Ending date:
Event# 918-762-2108
Event Details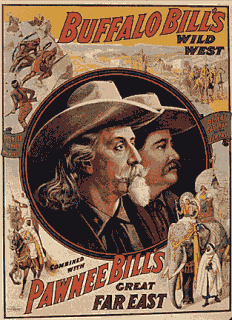 Last 3 Saturdays. The 2 "Bills" were pioneers of the old west. Major Gordon W. Lillie was given the name Pawnee Bill by the Pawnees when he came to Indian Territory as a young boy of seventeen. Pawnee Bill and Buffalo Bill rode together in what was to be the first of the Wild West Shows in 1883. "The Only Show of its Kind" - A show that once toured across America and Europe - Thrilling young and old has now become an annual event with a cast of 100's re-enacting the world famous Pawnee Bill Wild West Show. Each summer the hill side on BlueHawk Peak at the Pawnee Bill Buffalo Ranch comes alive with trick riders, trick ropers, shootings, hangings - a battle between the cowboys and Indians ... it's the west at its best.

In conjunction with The Pawnee Bill Wild West Show, come downtown on the square for arts and crafts, entertainment, and rides - Friday through Sunday. FAST DRAW COMPETITION Saturday. The west at its best!
The Original Pawnee Bill's Wild West Show and Festival
Address :
Pawnee Bill Ranch
Pawnee
OK
Phone :
918-762-2108
(Always call and confirm events.)
Fax :
918-762-2872
Web Address :
http://www.cityofpawnee.com
Admission Fee :
$10/adults, $5/children 7-12
Festivals
Attractions and Upcoming Events
Things to do near Pawnee, OK