Tipton, Kansas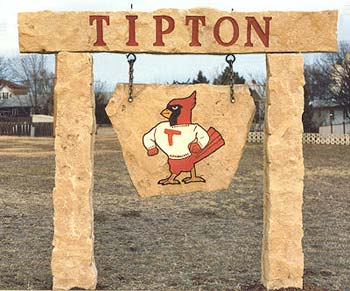 The land which later became the city of Tipton was originally purchased on March 27, 1877, for the town of Pittsburg, named after W.A. Pitt who operated the post office in his home directly west of the present townsite of Tipton. After Postmaster A. Seright was notified that there was another Pittsburg in Kansas, Chris Reinking, a settler who arrived in 1872, suggested Tipton, the name of the county seat of Cedar County, Iowa, from which he came.
By 1882 there were thirty or forty houses on the townsite with a wealthy German settlement around it. A German subscription school with thirty-five scholars and a regular district school of about thirty scholars were maintained in the town by 1882. In 1934 a Grotto was constructed by the Parochial church members in honor of "Our Lady of Lourdes."
Presently there are approximately 28 businesses in Tipton that welcome visitors traveling through North Central Kansas or those enjoying outdoor recreation at nearby Glen Elder Lake.