Tombstone, Arizona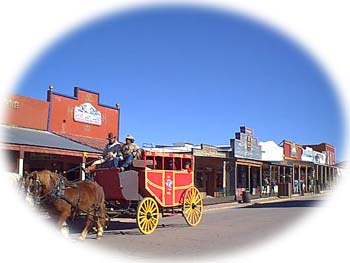 Visit Tombstone Arizona and you'll step back into the rough and tough days of western history. In the 1880s, Tombstone was a booming mining town that brought a rush of those looking to strike it rich. Gold and silver were the lures that also became magnets to thieves, card-sharks, murderers, rustlers and an abundance of unsavory bad guys. The streets came alive with hundreds of saloons, gambling halls and bawdy houses.
Surviving a day in Tombstone was a victory as its famous Boot Hill Cemetery overflowed with those shot during poker games, killed in drunken-induced gunfights and even hung for simply becoming a public nuisance. Undertaking was no doubt a lucrative profession.
Tombstone Arizona is perhaps most famous for its Gunfight at OK Corral when the Earp brothers, Wyatt, Virgil and Morgan, along with friend, Doc Holliday, shot it out with the Clanton and McLaury Gang. The fierce gunfight was quick and when the bullets stopped flying, Billy Clanton, Tom McLaury and Frank McLaury lay dead. Billy's brother, Ike Clanton, kept his life that day, but was eventually murdered near Springerville, Arizona. Virgil and Morgan Earp needed weeks to recover from serious wounds, but Doc Holliday was barely grazed by a bullet. Surprisingly, Wyatt Earp was unscathed.
Although the Gunfight at OK Corral is the most famous historical attraction of Tombstone Arizona, it was the tenacity and bravery of Edward Lawrence Schieffelin that spawned the town of Tombstone and the unusual way it got its name.
Schieffelin was a weathered prospector whose rugged appearance was well beyond his young age. Having prospected throughout the west for many years, he accompanied members of the U.S. Calvary from Southern California dispatched to Fort Huachuca in southeastern Arizona to protect settlers from the marauding Apaches.
Everyday for many years, Ed Schieffelin would venture out into the hills and mountains prospecting for the riches of silver or gold ore deposits. Each day he would brave the elements and the Apaches where many before him would never return. His soldier friends told him many times that if "he kept fooling around out there amongst the Apaches, the only rock he would come home with would be his tombstone".
Then one day in 1877 he discovered a silver ore outcropping that would be the beginning of his dream bonanza. He would name the mining district "Tombstone" which would also become the name of the "Town Too Tough To Die". The Tombstone Arizona rush to riches led to the booming of Tombstone, Arizona and its rich historical attractions. In spite of riches beyond his dreams, Ed continued prospecting in other parts of the west, became married and eventually died at age 49 in 1887. His wife fulfilled his wish and moved his body back to Tombstone where he was buried a few miles away near his original claim.
By differing accounts, Tombstone grew to a peak population of 12,000 – 20,000. The riches derived from mining of silver and gold soon waned when underground water flow filled the mines making it impossible to extract the metal treasures. Cattle ranching supported the businesses in Tombstone but eventually the town of Tombstone became insignificant to the growth of the west and more peaceful times returned.
Today, Tombstone is a tourist destination where about 1500 residents welcome vacationers and visitors into western history. Original buildings still exist with old bullet holes still visible from its rough and tough times. The aura and environment are still reminiscent of days past where visitors can walk the same paths of the bad boys from the 1880s.
The Boot Hill Graveyard is a must-see where bodies of past villains and law-abiding citizens still lie. Be sure to see the staged gunfights and barroom brawls along Allen Street that are enacted on most Sundays during the month. Although there is no longer any bawdy entertainment (Tombstone is a family environment), the old Bird Cage Theatre is still open for tours.
The old watering hole from 1879, The Crystal Palace Saloon remains a symbol of the true "Old West", retaining its 1880's integrity. The original copper ceiling, adobe walls, and beautiful replica of the massive bar, awe visitors as they step back in time to the only authentic saloon still operating in Tombstone. And be sure to visit the Tombstone Arizona Courthouse built in 1882 which is now a state historic park and museum filled with artifacts and old photographs. And witness the town gallows on display in its courtyard.
The old Tombstone Epitaph offices are now a museum where you can see the printed stories of past times. The Silver Nugget Museum also offers a museum insight into its past days of drinking, gambling and brothel entertainment. Be sure to take the tour of the "Good Enough Silver Mine" that lies under the streets of Tombstone.
A restored home, the Rose Tree Inn Museum, reputably boasts the largest rose tree in the world that is over 100 years old and covers an 8,000 square foot arbor. The rose tree of Tombstone blooms during April of each year.
And of course you don't want to miss the OK Corral and its recreation of the Tombstone early years with film and onstage character animations. Experience for yourself where the infamous Gunfight between the Earps and Clantons took place.