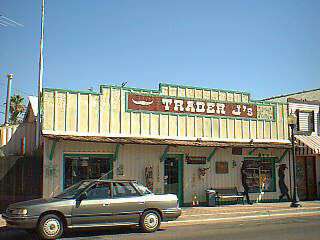 Trader J's

247 E Wickenburg Way
Wickenburg AZ 85390
Ph: 928-684-2381
Additional Information
Coming to Wickenburg? Make sure you stop in and see Trader J's. In our shop, You will find a nice variety of unique gifts at "affordable prices".
Owners Jim and JoAnn Zimpher, will greet you with a smile and offer warm and friendly service. We feature a -- LARGE SELECTION OF NAVAJO POTTERY -- which includes Sand Painted, Horsehair and Etched, Lamps and Nightlights.
Our -- INDIAN ARTIFACTS,-- crafted by Navajo, Apache, Cherokee and Shoshone Indians, include-- BOWS & ARROWS, -- SPEARS, -- WAR CLUBS, -- PEACE PIPES -- and MORE.
FOR YOUR WALLS, -- you can find -- PICTURES ON OLD GRAPE TRAYS, -- WESTERN AND SOUTHWEST STEEL WALL HANGINGS, -- PICTURES DONE BY BILL AND TRACIE RABBIT-- who are Cherokee, -- BARN WOOD AND BARBED WIRE FRAMED PICTURE AND FEATHER PAINTED PRINTS-- done by local -- ARTIST JANET LEROY.
We have a -- LARGE SELECTION OF INDIAN JEWELRY.-- You can find -- EARRINGS,-- NECKLACES,-- RINGS, --WATCHES,-- BRACELETS-- AND -PENDANTS-- made by the Indians. You will also find -- BELT BUCKLES, -- BOLA TIES,-- MONEY CLIPS-- AND --KNIVES -- to name a few more things.
KACHINA DOLLS, -- crafted by the Navajo and Hopi Indians, sit on the shelf in all shapes and sizes and a large selection of-- "TIMELESS INDIAN DOLLS"-- fill one room.

The complete set of the-- "THE TRAIL OF THE PAINTED PONIES"-- are here.
You can always find a western or southwest Christmas ornament, a magnet, a post card or Leanin' tree card. We're looking forward to meeting you so come on in and browse awhile.
Hours of Operation
Monday thru Saturday-----9am to 5pm
Sunday-------------------noon to4pm
Additional Directions
We are located at 247 EAST WICKENBURG WAY, next to the Best Western Motel.