Traditions/Transitions Quilt Show
Starting date:
Ending date:
Event# 503-433-4057
Event Details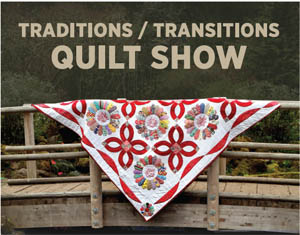 Over 150 quilts on display with: Vendors, Door Prizes, Boutique, Raffle Quilt, Bed Turning by Latimer Quilt and Textile Center, Quilts from The Bill Volckening Collection, and an Historic Quilting Display. Featured Quilters speaking daily: author of Thoroughly Modern Dresden, Anelie Belden, and Redwork pro Jean Gordon. More info and $1 off Coupon online. 10am - 4pm.

Free covered parking, just steps from the Max Stop at Tuality Hospital.
Traditions/Transitions Quilt Show
Address :
Health and Education Center of Tuality Hospital,, 334 SE 8th Ave. at Baseline, Hillsboro, Or
Hillsboro
OR
Phone :
503-433-4057
(Always call and confirm events.)
Web:
www.westsidequilters.org
Admission Fee :
$6, Look for $1 off coupon on our website and Facebook page
Quilt Shows
Attractions and Upcoming Events
Things to do near Hillsboro, OR