category : Fun Centers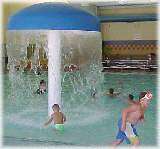 "Kingfisher's indoor swimming facility..." is FUN! FUN! FUN! all year round and offers swimming and aerobic programs. What could be more fun than renting The Vernie Snow Aquatic Center for events such as birthday parties, receptions or other private events.

Call for additional information.


Phone: 405-375-3318
Our Email: kfraquaticctr@pldi.net

Rates-
2 & under - Free w/ paying adult (limit, 2 free
3 - 18 years - $2.00
Adults over 18 - $3.00
Open Swim
(Until the 1st of June)
Tue-Fri: 3:00 - 5:30 pm
Saturday: 12 - 5:00 pm
Sunday: 1 - 5:00 pm
Summer Swim Times:
Tuesday - Saturday: 12 - 5:00 pm
Sunday: 1 - 5:00 pm
*Closed on Mondays
Scheduled Swims & Pool Rental
Adult only Lap Swim:
Daytime Tuesday - Friday 6 - 9am.
Evenings Tues, Weds, Thurs 5 -7:30 pm.
Saturday 9:00 - 10:00am
Pool accessible only to adults 18 years of age or older for lap swimming.
Water Aerobics:
Tuesday / Wednesday / Friday 9 - 10 am.
Sat. 9 - 10am.
Tuesday / Wednesday / Thursday 5:30-6:30pm.
Sat. 9 - 10am.
*Call or email the Aquatic center for reservations or information.
(405) 375-3318
Parties:
May be done during open swim times or as rental times.
Party Rentals:
a party rental is where the entire facility is reserved for your group only
Pool Rental Times:
Friday, Saturday, Sunday. 5:30-9:30pm.
Sat. 10am-12
Call for Rental Rates.
Come visit us in Kingfisher, Oklahoma