Village of Lights Festival
Starting date:
Ending date:
Event# 417-466-7654
Event Details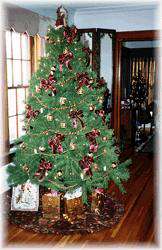 Weekend after Thanksgiving - Local residents open their homes for a Christmas Homes Tour on Saturday. Other highlights include the Christmas Parade, entertainment, and carriage rides on Saturday; and open houses at the local businesses and churches on Sunday.

The Chamber of Commerce Village of Lights festival began in 1991 to kick-off to the Christmas Season. It begins with a Holiday Homes Tour, which consists of approximately 5-6 homes that open their doors
to share their special seasonal decor. Tickets are $5.00 in advance
and $7.00 the day of the tour. Proceeds from the tours have been
spent in recent years to purchase lights to illuminate the Historic
Lawrence County Courthouse located in the center of the town square.

Throughout the day on Saturday there are various activities which include carriage rides, entertainment, Christmas parade, sing-a-long, awards, and to top off the evening, the lighting ceremony of the Courthouse and businesses throughout the town.

On Sunday, the Chamber of Commerce, Mt. Vernon businesses, and churches have an Open House. This is free to the public with many of the churches providing special holiday music.
Village of Lights Festival
Phone :
417-466-7654
(Always call and confirm events.)
Festivals